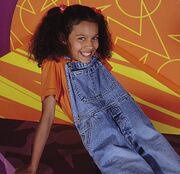 Aline Toupi (born 1992) is a former ZOOMer from the 4th and 5th seasons of the 1999 revived version of the PBS show "ZOOM".
Outfits she wore on ZOOM
Edit
Aline wore a short sleeved orange shirt with blue overalls.
Aline wore a short sleeved pink shirt.
Aline appeared on a special ZOOM episode titled "ZOOM: America's Kids Remember".

Of the ZOOMers that showed up on the special, Aline didn't know Alisa, Eric and Buzz. Both Eric and Buzz were around for the show's 3rd season and Alisa was around for the 1st 2 seasons. She took the time to the meet the 3 as they posed together for a group photo in the ZOOM: America's Kids Remembers" special.
Ad blocker interference detected!
Wikia is a free-to-use site that makes money from advertising. We have a modified experience for viewers using ad blockers

Wikia is not accessible if you've made further modifications. Remove the custom ad blocker rule(s) and the page will load as expected.