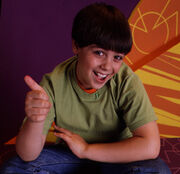 David John Toropov (born 1988 in Middleton, MA) was a former ZOOMer from the show's 1st season of the revived version of the PBS show "ZOOM".
Kyle Larrow later wore a green t-shirt except it was nothing like what David wore from season one. And the two didn't meet in person.
Born to Brandon and Mary Toropov, he has one younger brother, Stephen, and one younger sister, Julia.