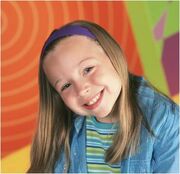 Emily Palmer Marshall (born October 18, 1994) is a former ZOOMer from the show's series finale of the revived version of ZOOM.
Guest Appearances on Other Shows
Edit
Ned's Declassified School Survival Guide - Guide to Daydream and Gym
Baby Einstein - Baby Mozart, Baby Shakespeare, Baby Neptune, Baby Galileo, and Neighborhood Animals
When Emily appeared on the show, she wore a long sleeved denim shirt over a striped top. The striped top was a wide light green and blue and a narrow navy blue.
External Link
Edit