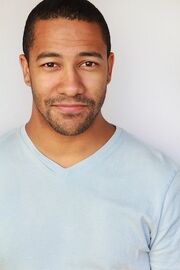 Eric C. Rollins (born March 5, 1987 in Taunton, Massachusetts) is a former Zoomster from Season 3 of the 1999 revived version of the PBS show "ZOOM".
Eric wore a long sleeved orange shirt with a horizontal navy blue stripe for the show's 3rd season.
Eric came back to the show for a special ZOOM episode titled "ZOOM: America's Kids Remember" even though he left after appearing for only the show's 3rd season.
Eric never met Pablo Velez Jr. on the set of ZOOM because he left the show after the show's 1st season. But the 2 of them reunited alongside Frances Domond and Kenny Yates in a ZOOM reunion PSA video.
Eric starts to run with Ubbi Dubbi Running Shoes.