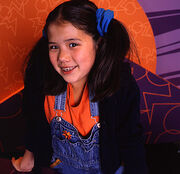 Keiko Lauren Yoshida (born June 11, 1984, in Andover, Massachusetts) is a former ZOOMer from the show's first season of the revived version of "ZOOM".
Keiko's name means "Lucky" in Japanese.
Keiko wore braces while she was on ZOOM.
One time, she teamed up with Caroline Botelho in a ZOOM Do segment on how to make dream catchers.
In the show's first season, she wore a navy sweater over an orange short-sleeve shirt and blue overalls.
Ad blocker interference detected!
Wikia is a free-to-use site that makes money from advertising. We have a modified experience for viewers using ad blockers

Wikia is not accessible if you've made further modifications. Remove the custom ad blocker rule(s) and the page will load as expected.