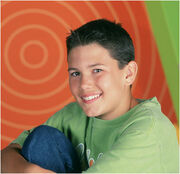 Kyle Raymond Larrow (born December 22, 1991) is a former ZOOMer from the 6th and 7th seasons of ZOOM.
Guest Appearances on Other Shows
Edit
Arthur and Buster's Thanksgiving Special
Ned: Guide to Daydream and Gym
Baby Einstein - My First Signs, Baby's Favorite Places, and Baby Wordsworth
Born to David and Jane Larrow, he has two younger sisters.
The outfits that Kyle wore in season 6 and 7 wore light green t-shirts.

The one he wore for season 6 had white along the shoulders with 2 narrow black stripes.
The one he wore for season 7 had colorful surfboards on it.