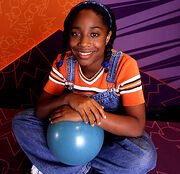 Lynese Antoinette Browder (born November 14, 1986 from Springfield, Massachusetts) is a former ZOOMer from the show's first season of the revived version of "ZOOM".
When Lynese got invited back on a special season 1 reunion episode, she teamed up with Ray, Pablo and Jessie in a game where players try to sink the penny into the water.

Sadly, she lost the game.
Ad blocker interference detected!
Wikia is a free-to-use site that makes money from advertising. We have a modified experience for viewers using ad blockers

Wikia is not accessible if you've made further modifications. Remove the custom ad blocker rule(s) and the page will load as expected.