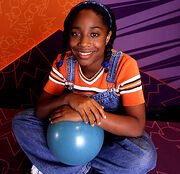 Lynese Antionette Browder (born November 14, 1985 in Hyde Park, Massachusetts) is a former ZOOMer from the show's first season of the revived version of ZOOM.
She had a twin sister named Latrice Yvonne.
When Lynese got invited back on a special season 1 reunion episode, she teamed up with Pablo, Jessica and Ray in a game where players try to sink the penny into the water.

Sadly, she lost the game.
Lynese is using an Ubbi Dubbi Singing Voice.