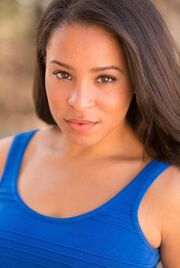 Maya Blanca Morales (born July 13, 1992) is a former ZOOMer who appeared on the show for the season 6 of the revived version of ZOOM.
When Maya was on the show, she wore a yellow t-shirt with a pineapple embroidered at the top.
Growing up at home, she had one younger sister.
Maya was the 2nd ZOOM girl to wear glasses. The 1st being Zoe Costello.

Today, she is seen with 20/20 vision.