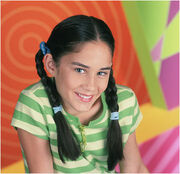 Noreen Shabbir Raja (born September 3, 1991) is a former ZOOMer from the show's series finale of the revived version of ZOOM.
Guest Appearances on other Shows
Edit
Ned's Declassified School Survival Guide - Guide to Daydream and Gym
Baby Einstein - Baby Van Gogh
When Noreen was on the show's final season of it's revival run, she wore a striped green t-shirt. In the show's intro, she seen wore a striped blue t-shirt.
Noreen was the only REAL ZOOMer to sing the Alphabet on ZOOMy Shakespeare.
Growing up at home, Noreen had three sisters is with Shella Raja, Anissa Raja, and Lilah Raja.
Noreen and her mom is with Dani Raja.
Noreen and her dad is with Khalid Raja.
Noreen and Khalid had the same middle name is Shabbir.
Noreen was done on ZOOM show's series finale and she reunited with her family.