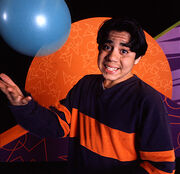 Pablo Velez Jr. (born 1983) is a former Zoomer from the show's 1st season of the 1999 revived version of the PBS show "ZOOM".
Pablo was about 14 or 15 years old when he took part on ZOOM.

At the time, he wore a thick long sleeved navy blue shirt with a large orange stripe around the stomach.

Even though Pablo came back for the season 1 reunion episode, he did so meet Kenny Yates from the season 2 cast.

The 2 of them would reunite alongside Eric Rollins and Frances Domond in a ZOOM reunion PSA video who he didn't meet because they were from season 3 of ZOOM.
Pablo was feeding Lynese an Ubbi Dubbi Singing Voice.