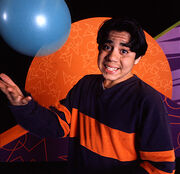 Pablo Velez Jr. (born 1983) is a former Zoomster from the show's 1st season of the 1999 revived version of the PBS show "ZOOM".
Pablo was about 16 years old when he took part on ZOOM.

At the time, he wore a thick long sleeved navy blue shirt with a large orange stripe around the stomach.

Even though Pablo Velez came back for the season 1 reunion episode, he did so meet Kenny Yates from the season 2 cast.

The 2 of them would reunite alongside Eric Rollins and Frances Domond in a ZOOM reunion PSA video who he didn't meet because they were from season 3 of ZOOM.
Ad blocker interference detected!
Wikia is a free-to-use site that makes money from advertising. We have a modified experience for viewers using ad blockers

Wikia is not accessible if you've made further modifications. Remove the custom ad blocker rule(s) and the page will load as expected.