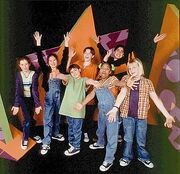 When ZOOM returned into production on PBS in 1999 as I Think I Can Productions, the show's title was still in capital letters; the colors on the show's title was still in orange and yellow but the font style is different. On top of the that, there was no pattern. On the revived show, the kids had to be between age 10-17 to take part on the show.
Opening ZOOMers
Edit
There was going to be 8 kids to the start the show's revival but, it was reduced to 7.
Phillip Fry appeared on the 1997 pilot episode of the show.
Ad blocker interference detected!
Wikia is a free-to-use site that makes money from advertising. We have a modified experience for viewers using ad blockers

Wikia is not accessible if you've made further modifications. Remove the custom ad blocker rule(s) and the page will load as expected.