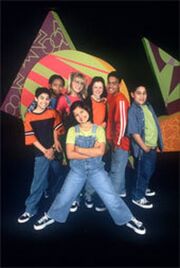 The 2nd season of the revival series of I Think i Can Productions (season 2B of I Think i Can Productions) aired in 2000. 2 of the ZOOMers stayed on the show while 5 new kids joined the cast. The length of the show's introduction is the same as the show's first season except the lyrics have been changed slightly.
New ZOOMers
Edit
Returning ZOOMers
Edit
This is the Final Season to use the Title as "I Think I Can Productions"
Ad blocker interference detected!
Wikia is a free-to-use site that makes money from advertising. We have a modified experience for viewers using ad blockers

Wikia is not accessible if you've made further modifications. Remove the custom ad blocker rule(s) and the page will load as expected.