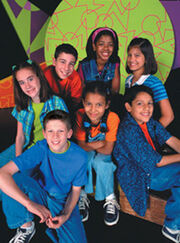 The 4th season of the revival series of ZOOM (season 4B of ZOOM) aired in 2002. The show's theme is still the same length just like from the show's 3rd season. The show had only 4 new ZOOMers with 3 still on the show.
New ZOOMers
Edit
Returning ZOOMers
Edit
Instead of 40 episodes, this season broke it down to airing only 20 episodes which continued all the way to the show's last season.
Ad blocker interference detected!
Wikia is a free-to-use site that makes money from advertising. We have a modified experience for viewers using ad blockers

Wikia is not accessible if you've made further modifications. Remove the custom ad blocker rule(s) and the page will load as expected.